2021 Cleanup Report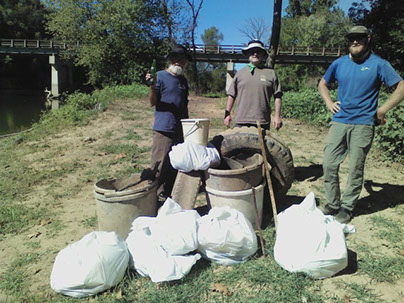 On September 25th six members of the Kings Armanda joined forces with the folks at Ozarks Water Watch to take part in the annual Table Rock Lake shoreline cleanup. The weather was beautiful as fall colors were just starting to show.
I am pleased to say the three miles we covered from Kings River Camping and Rentals to the Ark/Mo stateline were in good shape when we started that day. Our team recovered six medium bags of trash and two tires, an easy day at work. Ozarks Water Watch has held shoreline cleanups for over 20 years and their hard work shows
We hope to be part of the shoreline cleanup again next year so keep watching us right here to see our 2022 river cleanup schedule.
The Kings River Watershed Partnership's Carroll County river cleanup was another success.
Recent rains had the Kings River high and fast, good for a float but hard for cleanup. We focused our efforts on Osage Creek. The Osage runs down faster and it is hard to plan a workday.
Thanks to 45 participants and 8 private landowners we were able to recover 53 tires, 700 lbs. of metal and 1700 lbs. of trash. Six teams covered 25 miles of Osage Creek and 10 miles of Kings River.
This spring two groups of campers lost their gear when the Osage rose during the night sweeping away tents, sleeping bags, clothing and cooking and cleaning gear. Also recovered from the creek was a riding mower, parts of a satellite dish and a half bucket of hydraulic fluid.
Thanks to Eureka Springs Boy Scout Troop 67 and the Yakety-Yak Kayak Girls for joining forces with the Kings Armada.
Thanks to the folks at Tyson Foods Berryville for their donation to cover disposal fees.
A big thank you to all of our sponsors:
Arkansas Game and Fish Commission
Ozark Mountain Trading Co.
Pack Rat Outdoor Center
Turner Bend Store
Byrd's Outdoor Adventure Center
Lost Valley Canoes and Lodging
Buffalo Outdoor Center
Rio Buffalo Outfitters
Buffalo River Canoes
Sundown Liquors
Kings River Outfitters
Trigger Gap Outfitters
Grandview Rapid LLC
Hunnicutt Tree Service
Fanning Tree Service
Pizza Hut of Berryville
Jacobs Engineering of Fayetteville
Tyson Foods Inc.
Carroll County Solid Waste Dist.
We hope you can join us as we participate in the Table Rock Lake cleanup Sept 25, being put on by the folks at Ozarks Water. Details are still to be worked out. We will be on the Kings River arm of the lake. Keep watching our website and Facebook for more.
Congratulations go out to ours winners; Carol Brown is the winner of the kayak and Cari Clark won the one and only hand made Kings River Watershed Partnership quilt. Thank you to Ozark Mountain Trading Co. and all of our sponsors and to everyone who supported our cleanup.
Download 2020 Stream Line Newsletter Here>