2020 River Cleanup Summary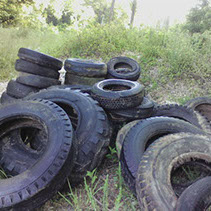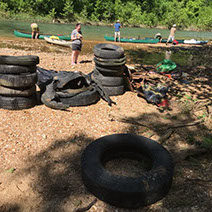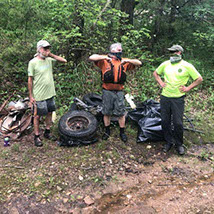 River cleanup season for 2020 was a tough go. We faced COVID-19 shutdowns, reschedules, heavy rains and flooded creeks and river. In spite of the difficulties we did get some things accomplished. Two teams took part in the Earth Day challenge and worked sections of the upper Kings and the upper Osage.
For the Madison County cleanup on May 16th we had a flooded Kings River but 5 paddlers showed up and were able to work 9 miles of lower dry Fork Creek and and a small section of the Kings River. On May 30th the Kings River was flooded again for the Carroll County cleanup. 27 people helped cleanup two sections of Osage Creek covering 13 miles. We took out 46 tires, about 1000 lbs. of metal and two pick-up loads of trash out of the watershed this year.
Congratulations to Ronnie Smith who won the kayak raffle this year.
Thank you to the folks who came out and put in a work day.
Also thank you to the folks at Grandview Rapids, Butch Hamby, Doc Taylor, Bill Hayes and Tom Rimmus for letting us use their river access. We could not do it without your help.
Thank you to our sponsors for your hard work too. Madison County Recycling, Carroll County Solid Waste Authority, Pack Rat Outdoor Center, Ozark Mountain Trading Co., Arkansas Game and Fish, Jacobs Engineering, Pizza Hut of Berryville and Tyson Foods Inc.
For more information on our river cleanups call Ray at 870 654 4134 or email rayandkarenwarren@gmail.com
Thank you to all who made the 2019 river cleanup possible!
Thank you to the folks at Grandview Rapids for opening their gates for our cleanup. An, as always, thank you to private landowners who allow us access to the river. Without your help our work would be much harder. Thank you to BSA troop 67 of Eureka Springs for making Kings River cleanup one of their service projects.
The 2019 river cleanup season was a tough for us. The water was high and the river was stained from recent rains. This is good news for floaters but makes a river cleanup hard. On our June cleanup in Carroll county, we had 40 boats on the water. We took out 74 tires, 2 pickup loads of trash, and a pickup load of metal. This is the second year in a row that we did not get a portable toilet off the river.
On our first cleanup in 2006, we had about 18 people on the water. We put in at the 62 bridge and went to the Grandview bridge. We got 50 tires and a washing machine off of 5 miles of river.
Our cleanups have grown over the years. Now we are able to clean up from Rockhouse to Romp Hole and we have 40 -70 people participate. We have taken over 1400 tires from the river, tons or trash and metal. Appliances like TVs, washing machines and lead acid batteries are becoming things of the past. Thanks to everyone who has helped over the years to make the Kings river one of the finest rivers in Arkansas!
You can help keep the river clean year round. When you are on the river for fishing, swimming or boating, it is easy to take a trash bag. If you find a tire, you can turn it in at Carroll County Solid Waste and tell them that it came off the river and they won't charge you. If you don't get the tire turned in, put a hole in it so that it doesn't hold water and bring it to our next cleanup.
Kings River has five game and fish accesses and none of them have a trash receptacle. The official policy is "pack it in, pack it out." If you are using the river please make it a habit to take more trash off the river than you brought, good boaters always do.
Thanks to Carroll County Solid Waste Authority and Madison County Recycling Center for working with us over the years. Please remember trash disposal is not free, these people have done a great job finding the funding to help us.
If you would like more info go to www.carrollcountysolidwaste.com or check out Madison county recycling center on Facebook.
I am looking forward to next year's cleanup season. 2020 will be the 50th anniversary of Earth Day. As a child of the 60's and 70's, this will be a milestone for me personally. We hope you can join us on Saturday, April 18, 2020. Meet us at the game and fish access west of Marble.
~by Ray Warren
Download 2020 Stream Line Newsletter Here>