Carroll County Cleanup 2022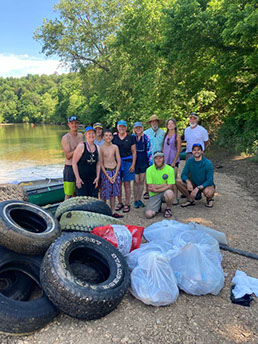 The 2022 Carroll County river cleanup turned out to be another great one. The weather was beautiful and the river was just right.
After being pushed to Osage Creek due to high water in '20 and '21 it was so nice to be back on Kings River again.
Thank you to the 60 paddlers and 12 camp crew who spent a long day at work. We were able to recover 94 tires, 1200 lbs. of garbage and 400 lbs. of metal from the Kings River. We covered 33 miles from Rockhouse to Stoney Point which is almost all of the Carroll County portion, the remaining portion is covered by Table Rock Lake at this time.
Congrats to William Moorhouse, age 10, of Huntsville, who helped with the cleanup and won the kayak.
Thank you to Carroll County Solid Waste, Tyson Foods Green Forest Complex and Hunnicutt Tree Service for their work with trash recovery.
Thank you to BSA Troop 67 of Eureka Springs.
Thank you to private property owners Chana Ursey, Ronnie Collins and Don Gustin who allowed access to their properties. Without their help our work would be so much harder.
Be sure to join us on Saturday, September 24th at 10 am at Hickory Hollow Resort in Shell Knob, our Table Rock Lake pick up.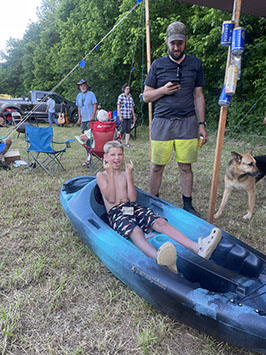 Our Sponsors:
Carroll County Solid Waste District
Tyson Foods Inc., Green Forest Complex
Hunnicutt Tree Service
Steve's Septic Service
Jacobs Engineering Group of Fayetteville
Pack Rat Outdoor Center
Ozark Mountain Trading Co.
Kings River Outfitters
Trigger Gap Outfitters
Arkansas Game and Fish Commission
H2Ozarks
Ozark Cafe on the Berryville square
Pizza Hut of Berryville
Eureka Vintage Outdoors
Alpine Liquor
Booze Brothers Liquor
Eureka Springs Brewery