...to protect the health, purity, and economic viability of the
Kings River watershed, now and for future generations.
The Board of KRWP supports the nominations of Lin Wellford, Gray Squires, and Glenda Allison to continue as members of the board. The election will be held at our Annual Meeting, Tuesday, March 27, 2018, at 6pm.
This meeting will be at the Carroll Electric meeting room in Berryville. Please plan to attend.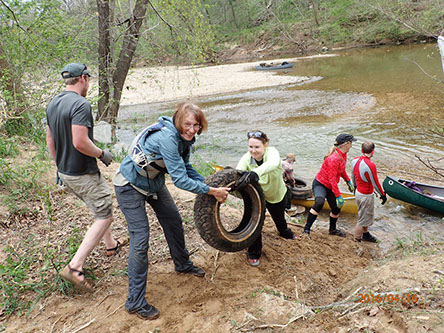 2018 Kings River Cleanup Season Begins!
We will begin our 2018 river clean up season with Earth Day clean up on Saturday, April 21st. If you would like to join us we will meet at the Marble access on Hwy 412 at 8:00 a.m. sharp. Bring your boat and a sack lunch, dress for the weather.
Our Carroll County clean up is set for Saturday, June 2nd. Meet at the Grandview Bridge at 8:00 a.m. sharp. Bring your boat and sack lunch and dress for the weather. After the Carroll County clean up please stay for the cook out. We will raffle the kayak and have door prizes and live blue grass music.
To get to the Grandview Bridge from Berryville take Hwy 62 west to Ar. 143. Go north 2.4 miles and watch for the river clean up signs on your right. If you cross the Kings River you went a 1/4 mile too far. Just go to Grandview and turn around.
Thanks again to Pack Rat Outdoor Center for their help with the kayak, a 9.5 Tribe by Perception. You can see the kayak and get tickets at Eye Q Optical in the Williams Shopping Center in Berryville or at any of our clean ups. You don't have to be present to win.
Thanks again to Ozark Trading Company for offering a $100 gift card to the second place winner. You must be present to win second prize!
If you have questions about our river clean ups you can email rayandkarenwarren@gmail.com or call Ray at 870.654.4134. Or you can call Eye Q Optical at 870.423.6115.