2021 Cleanups Scheduled!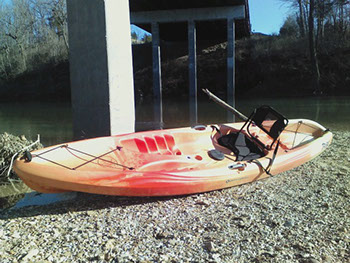 The Madison County river cleanup has been cancelled due to the weather. We hope to see you June 5th at the Grandview bridge.
Our Carroll County cleanup is set for Saturday June 5th. Meet us at the Grandview bridge at 8am sharp. Bring your boat, a sack lunch and dress for the weather. Be sure to join us after the cleanup for a pizza party, live music, door prizes and kayak raffle.
Thank you to the folks at Ozark Mountain Trading Co. for helping us with this year's kayak, an 11.5 Tribe by Perception. You can see the kayak and get tickets at Eye Q Optical in the Williams Shopping Center.
For more info email rayandkarenwarren@gmail.com or call 870.654.4134 or drop by Eye Q Optical.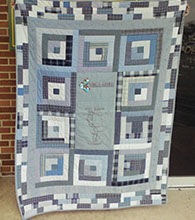 We have an additional raffle this year. We have a hand made quilt by Karen Warren. The center blocks are made from one of our tee shirts and the outer blocks are the log cabin motif with a stacked book border.
To see it in person and get tickets go to Eye-Q Optical in the William's Shopping Center in Berryville.
Cleaning Mill Creek
Kings River Watershed Partnership board members and friends recently undertook a clean up of Mill Creek, a small urban waterway that drains a major part of the city of Berryville and eventually flows into the Kings River. With the city restoring the original Town Spring behind the old Williams Gas Station building, the group decided it would be a good time to remove accumulated trash and debris. They started at the spring and worked their way down along the Community Center skate park. KRWP received a grant 10 years ago to re-engineer Mill Creek, which was heavily eroded and unsightly at the time. A series of stone weirs and drop pools helped to tame storm flows, and plantings of native trees and shrubs helped to protect the bank and naturalize the site. Local business man, Jimmy Jones. donated equipment, materials and labor that helped the project come together. Pictured are some of the participants along with their collected debris.
2020 River Cleanup Summary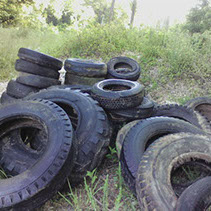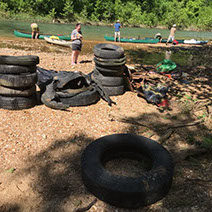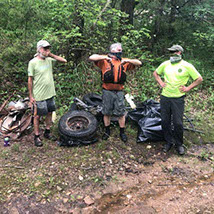 River cleanup season for 2020 was a tough go. We faced COVID-19 shutdowns, reschedules, heavy rains and flooded creeks and river. In spite of the difficulties we did get some things accomplished. Two teams took part in the Earth Day challenge and worked sections of the upper Kings and the upper Osage.
For the Madison County cleanup on May 16th we had a flooded Kings River but 5 paddlers showed up and were able to work 9 miles of lower dry Fork Creek and and a small section of the Kings River. On May 30th the Kings River was flooded again for the Carroll County cleanup. 27 people helped cleanup two sections of Osage Creek covering 13 miles. We took out 46 tires, about 1000 lbs. of metal and two pick-up loads of trash out of the watershed this year.
Congratulations to Ronnie Smith who won the kayak raffle this year.
Thank you to the folks who came out and put in a work day.
Also thank you to the folks at Grandview Rapids, Butch Hamby, Doc Taylor, Bill Hayes and Tom Rimmus for letting us use their river access. We could not do it without your help.
Thank you to our sponsors for your hard work too. Madison County Recycling, Carroll County Solid Waste Authority, Pack Rat Outdoor Center, Ozark Mountain Trading Co., Arkansas Game and Fish, Jacobs Engineering, Pizza Hut of Berryville and Tyson Foods Inc.
For more information on our river cleanups call Ray at 870 654 4134 or email rayandkarenwarren@gmail.com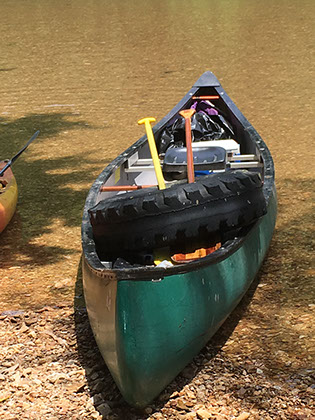 Thank you to our sponsors:
Ozark Mountain Trading Company
Packrat Outdoors
Uncle Sam's Safari Outfitter
Lewis and Clark Outfitter
Beaver Lake Liquor
Jacob's Engineering
Tyson Foods Inc
Trigger Gap Outfitters
Kings River Outfitters
Sundown Liquor
KFC of Berryville
Berryville Pizza Hut
Clay Maxey Ford
Ozark Cafe
Turner Bend Store
Carroll County Solid Waste Authority
Lost Valley Canoes and Lodging
Buffalo Outdoor Center
Arkansas Game and Fish
Granny's Place
Gazebo Books
Wild Blue Yonder
Fain's Herbacy
Crescent Moon Beads
Download 2020 Stream Line Newsletter Here>