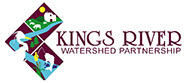 ...to protect the health, purity, and economic viability of the
Kings River watershed, now and for future generations.
The 2020 River Cleanup Season Begins!
Meeting canceled! Because of what's going on with the virus, the community room has decided to close for the duration and so we are tentatively rescheduling the meeting for May 19th.
As part of the yearly meeting, three board members are up for re-election, including Kyle Hunnicutt, T.J. "Jack" McCullough and Aaron Thompson, appointed to take the place of Mike Fitzpatrick who recently returned to the UK and is greatly missed.
Students from Clear Spring School will give a presentation on their River Studies, a comprehensive curriculum that was co-funded with grants from The Nature Conservancy and KRWP. The course offered hands-on activities including a bug kick to identify invertebrates that can indicate the health of waterways, and water testing sampling to look for potential pollutants or changes in water quality.
John Chapman with The Nature Conservancy will update the attendees on progress made at restoring the natural creek bed of a tributary to the Kings River at Rock House. The site was identified as a major source of sedimentation as large amounts of gravel were washing into the river at that site. He will show slides that detail the work done so far.
Ray Warren will detail plans for two river clean up efforts, including a Madison County clean-up for hard core paddlers who don't mind chilly water, set for April 18th, and the Carrroll County effort set for early May. He will have this year's raffle kayak, a very fine fishing kayak (pictured below).
We will discuss water quality on the Kings River as well as our 2020 river cleanup plans. The new fishing kayak will be there. You can purchase tickets there, or at one of the cleanups or drop by Eye Q Optical in the Williams Center in Berryville.
2020 will be the 50th anniversary of Earth Day. Our Earth Day cleanup will be held on Saturday April 18th. Meet us at Rockhouse Landing at 8:00 am sharp. Bring your boat and a sack lunch and dress for the weather.
Our Carroll County cleanup will be held Saturday May 30th at 8:00am sharp. Meet us at the Grandview bridge on Hwy 143 North. Bring your boat and a sack lunch and dress for the weather. After the cleanup stay for the cookout and live music. We will also have door prizes and the kayak raffle.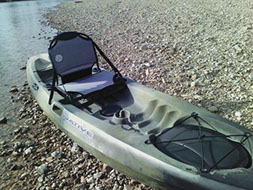 This year our kayak offering is a fishing kayak, a step up from the recreational kayaks of past years. The 11.5 Stingray by Native Watercraft is a roomier more comfortable boat with more load capacity. Thank you to the folks at Pack Rat Outdoor Center for their help over the years.
For more information on our river cleanups call Ray at 870 654 4134 or email rayandkarenwarren@gmail.com
Thank you to all who made the 2019 river cleanup possible!
Thank you to the folks at Grandview Rapids for opening their gates for our cleanup. An, as always, thank you to private landowners who allow us access to the river. Without your help our work would be much harder. Thank you to BSA troop 67 of Eureka Springs for making Kings River cleanup one of their service projects.
The 2019 river cleanup season was a tough for us. The water was high and the river was stained from recent rains. This is good news for floaters but makes a river cleanup hard. On our June cleanup in Carroll county, we had 40 boats on the water. We took out 74 tires, 2 pickup loads of trash, and a pickup load of metal. This is the second year in a row that we did not get a portable toilet off the river.
On our first cleanup in 2006, we had about 18 people on the water. We put in at the 62 bridge and went to the Grandview bridge. We got 50 tires and a washing machine off of 5 miles of river.
Our cleanups have grown over the years. Now we are able to clean up from Rockhouse to Romp Hole and we have 40 -70 people participate. We have taken over 1400 tires from the river, tons or trash and metal. Appliances like TVs, washing machines and lead acid batteries are becoming things of the past. Thanks to everyone who has helped over the years to make the Kings river one of the finest rivers in Arkansas!
You can help keep the river clean year round. When you are on the river for fishing, swimming or boating, it is easy to take a trash bag. If you find a tire, you can turn it in at Carroll County Solid Waste and tell them that it came off the river and they won't charge you. If you don't get the tire turned in, put a hole in it so that it doesn't hold water and bring it to our next cleanup.
Kings River has five game and fish accesses and none of them have a trash receptacle. The official policy is "pack it in, pack it out." If you are using the river please make it a habit to take more trash off the river than you brought, good boaters always do.
Thanks to Carroll County Solid Waste Authority and Madison County Recycling Center for working with us over the years. Please remember trash disposal is not free, these people have done a great job finding the funding to help us.
If you would like more info go to www.carrollcountysolidwaste.com or check out Madison county recycling center on Facebook.
I am looking forward to next year's cleanup season. 2020 will be the 50th anniversary of Earth Day. As a child of the 60's and 70's, this will be a milestone for me personally. We hope you can join us on Saturday, April 18, 2020. Meet us at the game and fish access west of Marble.
~by Ray Warren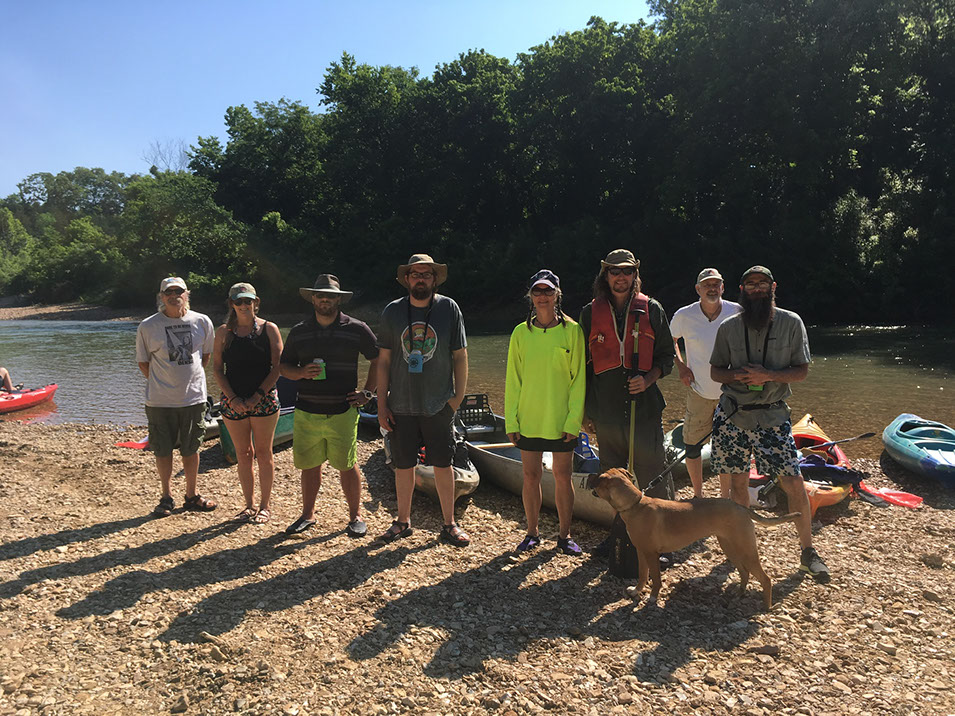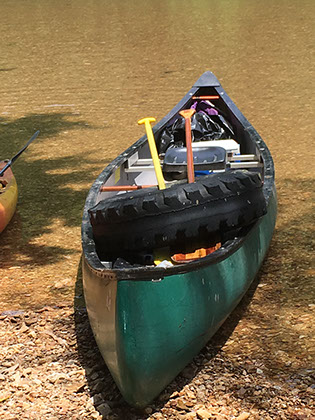 Thank you to our sponsors:
Ozark Mountain Trading Company
Packrat Outdoors
Uncle Sam's Safari Outfitter
Lewis and Clark Outfitter
Beaver Lake Liquor
Jacob's Engineering
Tyson Foods Inc
Trigger Gap Outfitters
Kings River Outfitters
Sundown Liquor
KFC of Berryville
Berryville Pizza Hut
Clay Maxey Ford
Ozark Cafe
Turner Bend Store
Carroll County Solid Waste Authority
Lost Valley Canoes and Lodging
Buffalo Outdoor Center
Arkansas Game and Fish
Granny's Place
Gazebo Books
Wild Blue Yonder
Fain's Herbacy
Crescent Moon Beads
The 2019 Madison County cleanup was a success despite a chilly start and high water. 13 paddlers were present and we were able to remove 24 car tires, a large loader tire a half pickup load of trash, a half of a canoe and one hog's skull.
Thanks to Kings River Outfitters for the shuttle and to all the paddlers. Special thanks to Tom and Cindy Rimkus for helping with pictures and shuttles and allowing us to use their property as access. It is important for us to remember that private land owners are the biggest part of our watershed and without their help, river cleanups would be very difficult.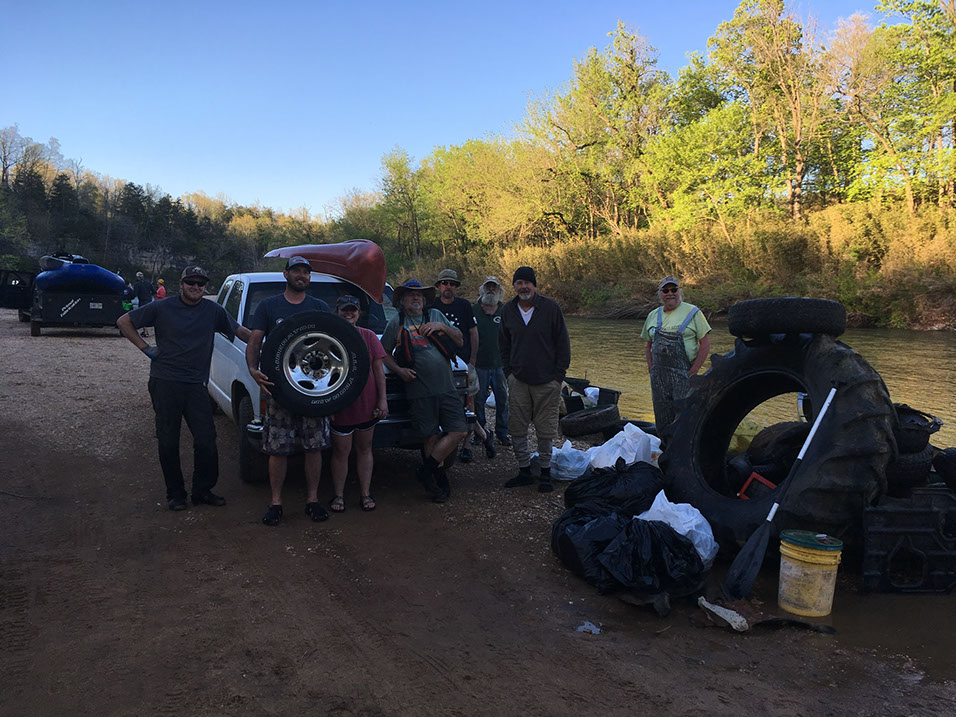 2019 Madison County Cleanup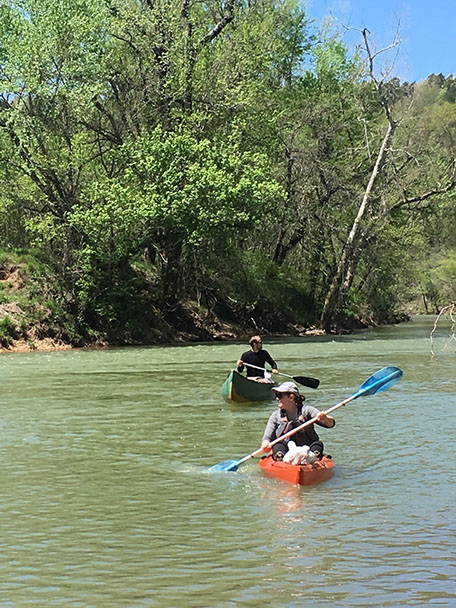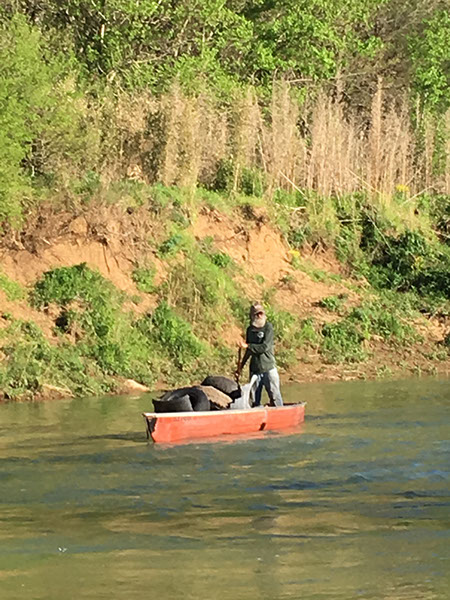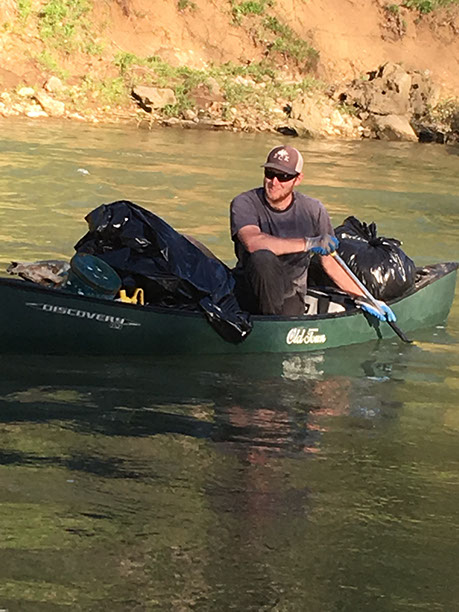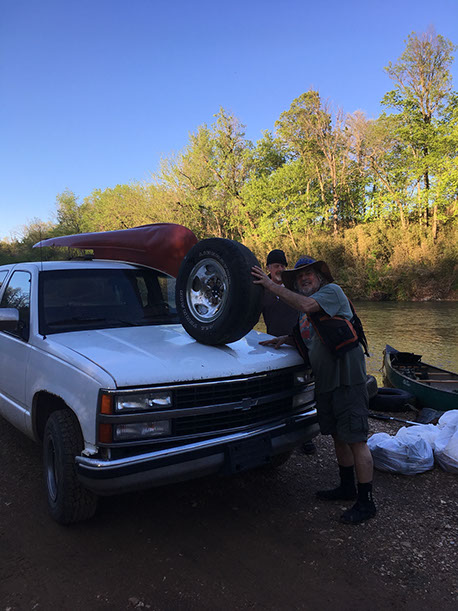 Download 2020 Stream Line Newsletter Here>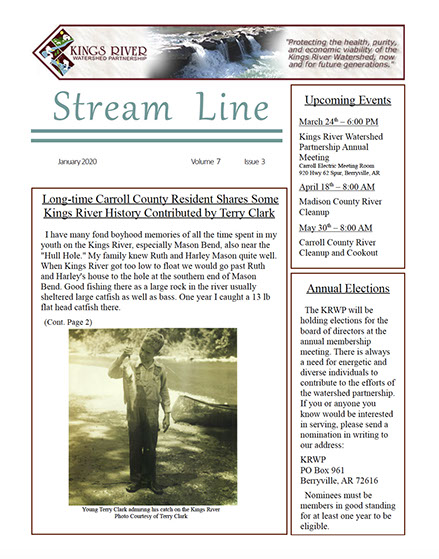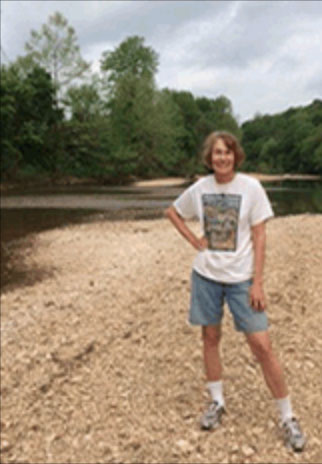 KRWP On The Radio
KRWP board member Lin Wellford was interviewed by Jaqueline Froelich on the "Ozarks At Large" program on radio station KUAF, 91.3 national public radio at U of A, Fayetteville. The interview covered KRWP's role as the first watershed group founded in the Arkansas Ozarks and it's 15-year history of work to educate, clean, and protect the remarkable resource we call the Kings River.
Left: KRWP Member Lin Wellford. Photo by: J. Froelich KUAF