Join us for the June 2, 2018 Cleanup in Carroll County!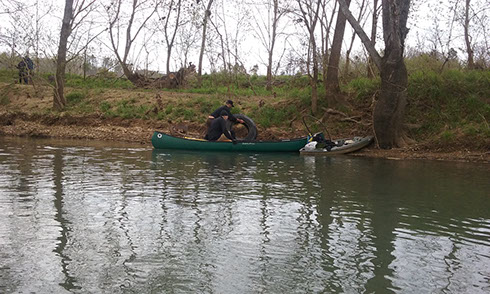 Our Carroll County clean up is set for Saturday, June 2nd. Meet at the Grandview Bridge at 8:00 a.m. sharp. Bring your boat and sack lunch and dress for the weather. After the Carroll County clean up please stay for the cook out. We will raffle the kayak and have door prizes and live blue grass music.
To get to the Grandview Bridge from Berryville take Hwy 62 west to Ar. 143. Go north 2.4 miles and watch for the river clean up signs on your right. If you cross the Kings River you went a 1/4 mile too far. Just go to Grandview and turn around.
Thanks again to Pack Rat Outdoor Center for their help with the kayak, a 9.5 Tribe by Perception. You can see the kayak and get tickets at Eye Q Optical in the Williams Shopping Center in Berryville or at any of our clean ups. You don't have to be present to win.
Thanks again to Ozark Trading Company for offering a $100 gift card to the second place winner. You must be present to win second prize!
If you have questions about our river clean ups you can email rayandkarenwarren@gmail.com or call Ray at 870.654.4134. Or you can call Eye Q Optical at 870.423.6115.
2018 Kings River Cleanup Season Has Begun—Madison County!
We had a fabulous turn out on a cool cloudy Saturday for our Madison County Kings River Clean up. 19 folks came to help and we dragged 50 tires and a truckload of scrap and trash out of the river. The stretch cleaned was from Marble Access to a private take-out 6 miles down stream.
Also want to publically thank Victor with Eddy Out Outfitters. We had so many folks show up we were trying to figure out how to shuttle everyone back to the put in, and Victor, who is starting up a float service and campground next to Marble offered to let us use his van and trailer!