2021 Cleanup Report
The Kings River Watershed Partnership's Carroll County river cleanup was another success.
Recent rains had the Kings River high and fast, good for a float but hard for cleanup. We focused our efforts on Osage Creek. The Osage runs down faster and it is hard to plan a workday.
Thanks to 45 participants and 8 private landowners we were able to recover 53 tires, 700 lbs. of metal and 1700 lbs. of trash. Six teams covered 25 miles of Osage Creek and 10 miles of Kings River.
This spring two groups of campers lost their gear when the Osage rose during the night sweeping away tents, sleeping bags, clothing and cooking and cleaning gear. Also recovered from the creek was a riding mower, parts of a satellite dish and a half bucket of hydraulic fluid.
Thanks to Eureka Springs Boy Scout Troop 67 and the Yakety-Yak Kayak Girls for joining forces with the Kings Armada.
Thanks to the folks at Tyson Foods Berryville for their donation to cover disposal fees.
A big thank you to all of our sponsors:
Arkansas Game and Fish Commission
Ozark Mountain Trading Co.
Pack Rat Outdoor Center
Turner Bend Store
Byrd's Outdoor Adventure Center
Lost Valley Canoes and Lodging
Buffalo Outdoor Center
Rio Buffalo Outfitters
Buffalo River Canoes
Sundown Liquors
Kings River Outfitters
Trigger Gap Outfitters
Grandview Rapid LLC
Hunnicutt Tree Service
Fanning Tree Service
Pizza Hut of Berryville
Jacobs Engineering of Fayetteville
Tyson Foods Inc.
Carroll County Solid Waste Dist.
We hope you can join us as we participate in the Table Rock Lake cleanup Sept 25, being put on by the folks at Ozarks Water. Details are still to be worked out. We will be on the Kings River arm of the lake. Keep watching our website and Facebook for more.
Congratulations go out to ours winners; Carol Brown is the winner of the kayak and Cari Clark won the one and only hand made Kings River Watershed Partnership quilt. Thank you to Ozark Mountain Trading Co. and all of our sponsors and to everyone who supported our cleanup.
Cleaning Mill Creek
Kings River Watershed Partnership board members and friends recently undertook a clean up of Mill Creek, a small urban waterway that drains a major part of the city of Berryville and eventually flows into the Kings River. With the city restoring the original Town Spring behind the old Williams Gas Station building, the group decided it would be a good time to remove accumulated trash and debris. They started at the spring and worked their way down along the Community Center skate park. KRWP received a grant 10 years ago to re-engineer Mill Creek, which was heavily eroded and unsightly at the time. A series of stone weirs and drop pools helped to tame storm flows, and plantings of native trees and shrubs helped to protect the bank and naturalize the site. Local business man, Jimmy Jones. donated equipment, materials and labor that helped the project come together. Pictured are some of the participants along with their collected debris.
2020 River Cleanup Summary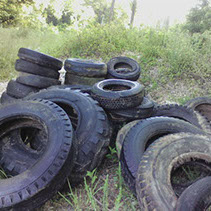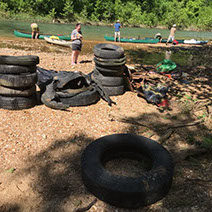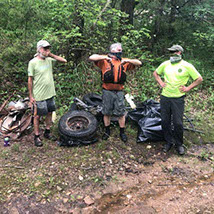 River cleanup season for 2020 was a tough go. We faced COVID-19 shutdowns, reschedules, heavy rains and flooded creeks and river. In spite of the difficulties we did get some things accomplished. Two teams took part in the Earth Day challenge and worked sections of the upper Kings and the upper Osage.
For the Madison County cleanup on May 16th we had a flooded Kings River but 5 paddlers showed up and were able to work 9 miles of lower dry Fork Creek and and a small section of the Kings River. On May 30th the Kings River was flooded again for the Carroll County cleanup. 27 people helped cleanup two sections of Osage Creek covering 13 miles. We took out 46 tires, about 1000 lbs. of metal and two pick-up loads of trash out of the watershed this year.
Congratulations to Ronnie Smith who won the kayak raffle this year.
Thank you to the folks who came out and put in a work day.
Also thank you to the folks at Grandview Rapids, Butch Hamby, Doc Taylor, Bill Hayes and Tom Rimmus for letting us use their river access. We could not do it without your help.
Thank you to our sponsors for your hard work too. Madison County Recycling, Carroll County Solid Waste Authority, Pack Rat Outdoor Center, Ozark Mountain Trading Co., Arkansas Game and Fish, Jacobs Engineering, Pizza Hut of Berryville and Tyson Foods Inc.
For more information on our river cleanups call Ray at 870 654 4134 or email rayandkarenwarren@gmail.com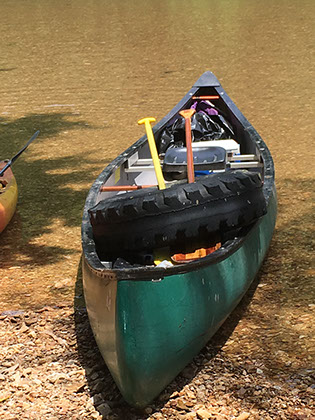 Thank you to our sponsors:
Ozark Mountain Trading Company
Packrat Outdoors
Uncle Sam's Safari Outfitter
Lewis and Clark Outfitter
Beaver Lake Liquor
Jacob's Engineering
Tyson Foods Inc
Trigger Gap Outfitters
Kings River Outfitters
Sundown Liquor
KFC of Berryville
Berryville Pizza Hut
Clay Maxey Ford
Ozark Cafe
Turner Bend Store
Carroll County Solid Waste Authority
Lost Valley Canoes and Lodging
Buffalo Outdoor Center
Arkansas Game and Fish
Granny's Place
Gazebo Books
Wild Blue Yonder
Fain's Herbacy
Crescent Moon Beads
Download 2020 Stream Line Newsletter Here>