KRWP Annual Meeting 2023
The Kings River Watershed Partnership will hold an annual meeting on March 28 at 6pm, in the Carroll Electric meeting room in Berryville. There will be a presentation by Northwest Arkansas Land Trust and an election of board members.
This is the slate of nominees to the board for re-election:
Kyle Hunnicutt
T.J.(Jack) McCullough
Aaron Thompson
If you are a past or present member, or friend of the Kings, please join us. Refreshments will be served.
2023 marks the 20th year of our organization, which began with Round Table Meetings. These meetings brought people together who support the Kings River. This is still part of our mission!
River Cleanups for 2023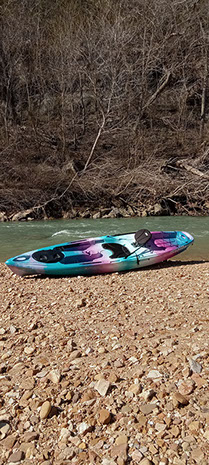 Madison County cleanup will meet on April 22nd at 8am sharp. Meet at Marble Access one mile west Marble, Arkansas, just off of US 412.
Carroll County cleanup will meet on June 3rd at 8am sharp. Meet at the Grandview bridge on AR 143, 2.3 miles north of US 62.
Table Rock Lake shoreline pickup will meet on September 17th at 9:30am. Meet at Carr Lane Country Store at the junction of MO 86 and MO 39.
There will be an urban stream pickup, details to be announced at a later date.
Bring your boat and a sack lunch and dress for the weather. Please stay for pizza, live music and kayak raffle after our June cleanup. For more info call or text Ray at 870.654.4134 or email rayandkarenwarren@gmail.com
Our kayak raffle this year is a Pescador 10.0 by Perception. To see the kayak and purchase tickets drop by Eye-Q Optical, 310 Eureka Ave., Berryville, in the Williams Shopping Center. Tickets will also be available at our annual meeting, both cleanups and at Pint Night on May 10th at Pack Rat Outdoor Center, 209 W. Sunbridge Dr., Fayetteville. Kayak sponsored by KRWP and Pack Rat Outdoor Center.

Pint Night is May 10
KRWP is fortunate to have been selected as the beneficiary of a Pint Night on May 10th at Pack Rat Outdoor Center, 209 W. Sunbridge, Fayetteville Arkansas, from 5:30 to 8:00PM. Pint Night is a fundraising event with 100 percent of the profits going to local nonprofits dedicated to conservation. These events are held several times a year and have deals on gear, giveaways, live music with beverages and hors d'oeuvres. Pack Rat is a leader in the outdoor community and we are grateful for the many times they have helped us over the last 20 years.