Download 2019 Stream Line Newsletter Here>
2018 Carroll County Cleanup a Success!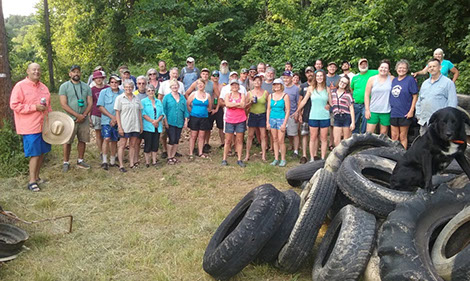 A portion of the 77 paddlers who participated pose with a fraction of the 122 tires collected at this year's Carroll County Kings River Clean-Up effort. Merle the dog served as a canoe masthead. Separate groups tackled different river segments from Rockhouse access all the way to Romp Hole. The Kings River Watershed Partnership is grateful to the Boy Scouts and members of the Master Naturalist as well as friends and partners who helped collect more than 500 pounds of scrap metal and two pickup loads mounded with rubbish. Thirteen helpful folks provided support by shuttling paddlers, setting up the picnic supper or providing live music for the after-party. Thanks to all the businesses that donated door prizes.
The winning ticket for the kayak drawing was also drawn. Joanne Goluch got the call that she now owns a terrific sit-on-top kayak. We partner with Pack Rat in Fayetteville to offer a kayak raffle as a fund-raiser each year. The Kings River Watershed Partnership is a non-profit group dedicating to preserving and protecting the Kings River for all to enjoy.
Thank you to Carroll county waste authority for the big work of recovering tons of trash and over a thousand tires over the years.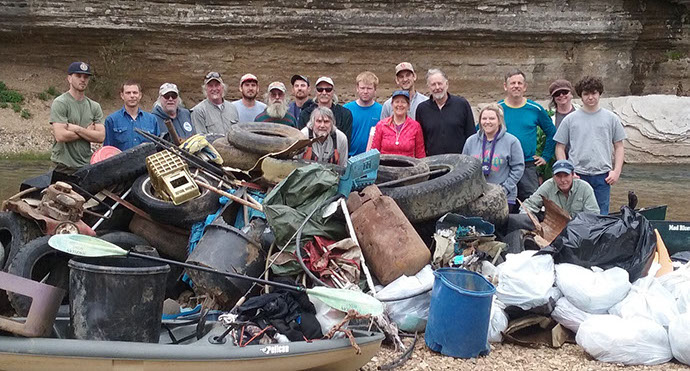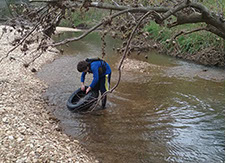 Also the Country Rooster in Green Forest and
Sundown Liquor in Alpena
Thank you to our sponsors on the Buffalo:
Buffalo Outdoor Center
Lost Valley Canoes
Buffalo River Canoes
Southern Hills Kitchen
Ozark Cafe
Blueberry Cafe
Buffalo River Outfitters
The Gilbert store
WOW Liquor
Thank you to our sponsors on the Mulberry river:
Turner Bend store
Byrd's Outdoor Adventure
And our sponsors in the big cities:
Packrat Outdoor Center
Ozark Mountain Trading Company
Southtown Sports
Arkansas Game and Fish
Thank you to all the paddlers and support crew.
Thank you to our sponsors in Eureka Springs:
Kings River Outfitters
Trigger Gap Outfittters
Turpentine Creek Wildlife Refuge
Onyx Cave
Pizza Hut
Fain's Herbacy
Wild Blue Yonder
Gazebo Books
Granny's Place
Riverview Resort
Thank you to our sponsors in Berryville:
Geraldi's Restaurant
Good Times Pizza
KFC
KTHS Radio
Thank you to Boy Scout troop 67 of Eureka Springs for adopting the Kings river as an ongoing service project
And as always thank you to the many land owners who allow us access to private property. Without their help we could never have a large scale cleanup on the Kings river.
If you have questions about our river clean ups you can email rayandkarenwarren@gmail.com or call Ray at 870.654.4134. Or you can call Eye Q Optical at 870.423.6115.
2018 Kings River Cleanup Season—Madison County!
We had a fabulous turn out on a cool cloudy Saturday for our Madison County Kings River Clean up. 19 folks came to help and we dragged 50 tires and a truckload of scrap and trash out of the river. The stretch cleaned was from Marble Access to a private take-out 6 miles down stream.
Also want to publically thank Victor with Eddy Out Outfitters. We had so many folks show up we were trying to figure out how to shuttle everyone back to the put in, and Victor, who is starting up a float service and campground next to Marble offered to let us use his van and trailer!